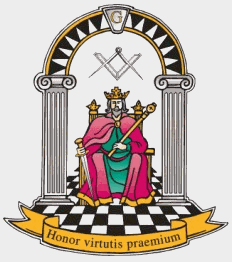 I'm back from my whirl-wind trip of Masonic Week, after which I'm pretty tired. It was a good trip, though. I was one of the first 175(ish) people to join the Masonic Order of Athelstan in the England, Wales, and Provinces overseas, and became one of the first members of Susquehanna Court No. 74, domiciled in Allentown, PA. I'm also pretty sure that I am the youngest member of the group here in the United States. If you're really interested in what all that is, you can check out http://www.athelstan.org.uk/.
I didn't just do Masonic stuff while I was on my little trip - DeMolay got some time too. After a long day of Masonic goodness in Alexandria, I drove back to Fairfax to spend some time with "Dad" Zack Panitzke before coming back to PA. He suggested we go to his local Chapter's ritual practice so I could see some of the guys from Key Man 2010. On the way we snagged "Dad" Peter Brusoe, Past International Master Councilor and Chief Operating Officer for Nation's Capital DeMolay. A short dash later found us in Falls Church, VA, home to E.A. Mroz Chapter, which meets at

Kemper

-Macon Ware Lodge. The Chapter had a great ritual practice and I especially enjoyed catching up with the guys and their

advisors

. I even did a little Key Man sales pitch for the members that were there. Hopefully we see them at Key Man 2011!
Following my visit, "Dad"'s
Brusoe
,
Panitzke
, and myself all stopped by the Fez Bistro for a fantastic dinner of Moroccan cuisine. I ended up leaving VA about 10:30 Wednesday night, pulling back into
Elizabethtown
at 1 a.m. on Thursday.
My travel doesn't stop there, though! Tomorrow I'm trekking North with part of the Convention staff to work on Convention 2011 (held at the Mountain Laurel Resort in White Haven, PA.) From there, we'll shoot back down South for Patriots Class on Saturday. I hope to see everyone there!
Frat! ~ "Dad" Seth Anthony