As we continue our Senior DeMolay spotlight series, I'm sure you saw the title of this post and thought "who in the world is Mark William Calaway?" Very few people know that name. He's not in the DeMolay International Hall of Fame. He's not a prominent Mason. That name doesn't even belong to a well known public figure. However, I'm guessing that you'll be able to identify who Bro. Calaway is if I used his stage name - The Undertaker. Yes, that Undertaker. Professional Wrestler, WWE Superstar, and all around creepy macho guy. So, how did he go from DeMolay to heavy weight champion? Read on!
Mark William Calaway a.k.a The Undertaker
Professional Wrestler and Entertainer
Bro. Calaway was born on March 5, 1965, in Houston, Texas, and from all accounts he was a regular kid who enjoyed sports and physical activity. He attended Waltrop high school where he played on the basketball team. It is unknown as to whether or not he attended college, but what is certain is that by the age of 19 he had already earned a contract with World Class Championship Wrestling to begin his career as a professional athlete and entertainer. Originally going by the name "Texas Red," his first match was against Bruiser Brody in 1984. We couldn't find information on whether he won or lost that bout. His career really took off on April 1, 1988, when he beat Jerry "The King" Lawler for the USWA Unified World Heavyweight Championship.
In 1989 Mark joined World Championship Wrestling. He adopted the ring name "Mean" Mark Callous and would become part of the Skyscrapers wrestling team, replacing an injured Sid Vicious. He continued to wrestle with various groups until 1990, when he scored it big, landing a contract with the World Wrestling Federation (WWF, now the WWE.)
On November 19, 1990, Calaway made his first appearance as "Cain the Undertaker," a persona which was adapted from a Western mortician theme, which included a slouch hat and a long, duster style trench coat. In this characterization, that of the "Deadman," he was supposedly impervious to pain. He made his first on camera debut on November 22 of that same year at the Survivor Series event. He was introduced as "The Undertaker" and went on to participate in his first match in incredible fashion, by eliminating "Koko B. Ware" with his first signature move, the Tombstone Piledriver. After this match, he would hook up with his ubiquitous manager, "Paul Bearer", and would adopt his signature finishing move of placing his defeated opponents in body bags.
His next major debut was at Wrestlemania VII, where he would defeat the world famous wrestler Jimmy "Superfly" Snuka. This win would begin his streak of being undefeated at Wrestlemania, which still stands to this day. This match would also see him create his first real feud, having gone after the Ultimate Warrior. Within a year of this event, he would defeat Hulk Hogan for the WWF Championship, making him the youngest person ever to hold the title belt up to that point. He would continue to wrestle as The Undertaker, participating in various story lines, up until 1998.
In 1997, Bro. Calaway participated in a story line involving his family being killed and a long lost brother, who also became a wrestler, named Kane. It should be noted that these events are purely fictitious and do not in any way represent his dealing with his real family. He would spend the next two years feuding with his "brother" and participating a high stakes bout called "Hell in a Cell"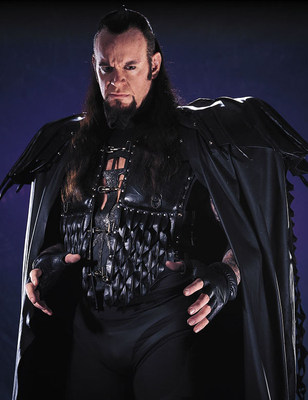 In 1999 he re-conceptualized his character into the leader of a team known as "the Ministry of Darkness" which portrayed a darker and more demonic look. He was often seen sitting on a throne and said that he was taking his orders "from higher powers." The other big gimmick that he developed was "sacrificing" other wrestlers in an attempt to win them over to his side. However, this storyline was short lived when Mark pulled a groin muscle, forcing him to go on a four month hiatus. He would later rip a pectoral muscle during this time, forcing him to remain out for even longer.
By the year 2000, the comic book style characters of the previous generation of wrestlers was becoming less popular. When Bro. Calaway returned to the WWF in late 2000, he found that he was in need of another image change. This time, he took on the motif of a biker, but still retained the name of "the Undertaker." Gone were the signature references to the occult, replaced with the image of an American tough guy. He would take part in several plots over the next four years, which proved to be a prosperous time for him.
In 2004, the image of the biker was beginning to get stale, and in a ploy to increase ratings, the WWF brought him back in his original "Deadman" motif. He has continued to wrestle in this style since, having taken part in numerous stories and events. His current feud is with wrestler "Triple H."
In his personal life Bro. Calaway has been married twice, first to Jodi, whom he divorced in 1999, and later to Sara. Their marriage ended in 2007. He has a son, named Gunner, and two daughters, Chasey and Graci. He enjoys mixed martial arts and boxing and has appeared in support of contestants at many bouts. He is also an avid real estate investor, having recently finished construction on a $2.7m building in Texas called the Calahart.
Bro. Calaway has certainly found his Mission in life - controlling the ring and his body, making him an entertainer par excellence. How can you you use his life to teach you control?
Frat! ~ "Dad" Seth Anthony